DiLEO: the Digital Library Evaluation Ontology
Introduction
Evaluation is a very vital research interest in the digital library domain. This has been exhibited by the growth of the literature in the main conferences and journal papers. However it is very difficult for one to navigate in this extended corpus. For these reasons the DiLEO ontology has been developed in order to assist the exploration of important concepts and the discovery of trends in the evaluation of digital libraries. DiLEO is a domain ontology, which aims to conceptualize the DL evaluation domain by correlating its key entities and provide reasoning paths that support the design of evaluation experiments.
DiLEO is comprised by two main layers: the strategic layer refers to the main concepts that define the purpose and the scope of an evaluation and relate it to other studies. The procedural layer is composed of classes that model the practice of evaluation initiatives. These classes describe an evaluation activity in terms of processes, constraints and requirements. The figure below presents synoptically the two layers.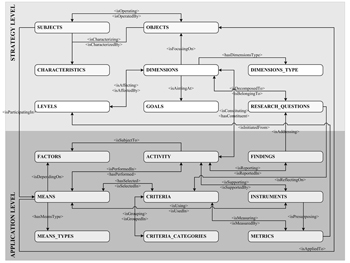 DILEO can be a useful tool to explore the digital library evaluation domain, to draw specific conclusions and take informed decisions. With the rich data that can be expressed by the DL evaluation literature and the ontology declaratives one can identify several concepts that governed the field of DL evaluation in a fine-grained fashion.
Material
Find more about DiLEO in Tsakonas, G. and Papatheodorou, C. (2011), An ontological representation of the digital library evaluation domain. Journal of the American Society for Information Science and Technology, 62:8, pp. 1577–1593. doi: 10.1002/asi.21559. The paper describes in detail the structure of DiLEO, the motives and the engineering process.

You can access an OWL version of DiLEO here (last update August 05, 2011).
You can read the DiLEO vocabulary, containing definitions of entities and relationships in alphabetical order here.
You can view an English presentation of DiLEO below. A presentation in Greek in SlideShare is also available here.
You can also access a list of related readings in Mendeley here.
Contact:
Giannis Tsakonas [john-at-lis-dot-upatras-dot-gr]