IMPORTANT LINKS
Website:
http://noc.ionio.gr


Electronic Submission of User Requests via the Request Management System:
http://noc.ionio.gr/otrs


NOC Services:
http://noc.ionio.gr/services.htm


HelpDesk:
http://noc.ionio.gr/manuals.htm


E-mail:
noc@ionio.gr
The Network Operations Centre of the Ionian University was created within the framework of the Operational Programme for Education and Initial Vocational Training (O. P. Education) of the Second Community Support Framework for network operation. The Ionian University participates in the O. P. "Education" network programme, aspiring to create an advanced voice and data transmission network that will cover all its educational and administrative needs.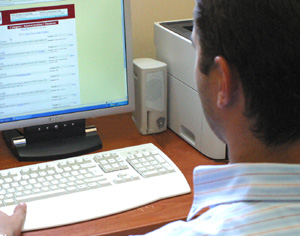 The six Departments of the university are situated in different locations in the city of Corfu. The use of a modern network is vital for both the smooth functioning of the university (administration, secretariats and library) and the communication of the university community with other educational institutions and sources of information in Greece and abroad.
The Network Operations Centre aims at creating and maintaining a complete network for voice and data transmission in the Ionian University. By developing suitable applications and by providing network support to all members of the university community, the Network Operations Centre also aims at increasing network efficiency and introducing new technologies in the administrative and educational activities of the Ionian University.
Postal address: 72, Ioannou Theotoki str. 49100, Corfu
Fax: 26610 87635