The University's laboratories aim at the development of academic research and the promotion of knowledge in their field of expertise. Their activity is based on the fundamental concept of the research-education interrelation and their main goal is to support the graduate and postgraduate studies at the Ionian University.

More specifically, the laboratories aim at the following: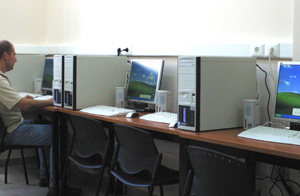 a) Production of educational material and teaching aids in order to support research, teaching and academic knowledge updating.

b) Organising activities and events to facilitate the connection of teaching with academic research.

c) Conducting research, seminars and studies.

d) Collaboration with research centres, institutions and universities in Greece and abroad.

e) Initiatives for the promotion of the connection of the Ionian University with the local community.
Show / Hide all

a) Formal Laboratories

Department of History

Department of Foreign Languages, Translation and Interpreting

Department of Archives, Library Science and Museum Studies

Department of Informatics

Department of Audio and Visual Arts

Department of Music Studies
b) Informal Laboratories

Department of Informatics
Computational Modeling Lab (CMODLab)

The Computer Modeling Laboratory [CMODLab] is based in the Department of Informatics of the Ionian University and is created to cover the educational and research activities of students and staff of the Department in the following subjects: Interdisciplinary fields of Informatics and in particular in the field of Applied Stochastic Models to state-of-the-art complex systems problems, knowledge Management Technologies and Digital Audio and Video Processing Technologies, stochastic User Data Analysis, stochastic Dynamic Variation Prediction Models, stochastic Data Analysis and Stochastic Models for Ecology, Biodiversity, Precision Agriculture and Natural Disaster Studies.
Show / Hide all