List of websites of recent projects
Show / Hide all

Entrepreneurship Education

Scientefic co-ordinator:
Athanassios Efstathiou
, Assistant Professor, Department of History

The main objective of the program is to provide entrepreneurship educational courses to the student community of the Ionian University.
---
DELOS Network of Excellence



Scientefic co-ordinator (Ionian University):
Sarantos Kapidakis
, Associate Professor, Department of Archives, Library Science and Museum Studies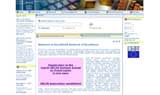 DELOS is a Network of Excellence on Digital Libraries. The main objectives of DELOS are research, whose results are in the public domain, and technology transfer, through cooperation agreements with interested parties.
---
Show / Hide all