The relation of the Ionian University with its graduates does not end with their graduation. Undoubtedly, the smooth operation and the good reputation of the institution are reflected on the general recognition of the awarded degrees, while the graduates' acknowledged status in the academic and professional arena is indicative of our Institution's high educational goals.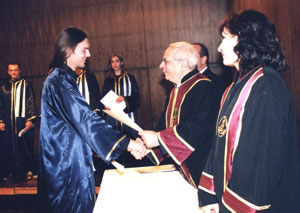 So far there are three alumni associations:

The Association of Archivists and Librarians of Greece is a professional union, established in 2000 by graduates of the Department of Archives, Library Science and Museum Studies of the Ionian University, which is also open to graduates of similar University Departments in Greece and abroad.

The Panhellenic Association of Professional Translators Graduates of the Ionian University

was founded in 2005 with the aim to promote the translation procedure in Greece and to provide translation services as well as to promote the interests of the graduate translators of the Department of Foreign Languages, Translation and Interpreting of the Ionian University.

The Department of Music Studies Graduates Association "Marios D. Mavroides" was established in 2000 and its email address is apof_musion@yahoo.com.